One of the main things you want to keep in mind when thinking of camping recipes is how many different meals or snacks you can make with it. The more versatile the ingredient, the better. This list of recipes was created with the assumption that you have access to either a refrigerator or a cooler, some might call this 'glamping'.
Ingredients
[one_half]Oatmeal
Brown Sugar
Pasta of choice
Pasta sauce
Block of parmesan cheese or grated parmesan
Canned soup
Canned beans
Canned chili
Canned chili beans
Canned sliced peaches
Apples[/one_half][one_half_last]Oranges
Granola bars
Tortillas
Block of sliceable cheese (mozzarella, edam, etc.)
Hummus
Cucumber
Boiled eggs
Deli meat
Saltine crackers
Ramen (Tim's favorite)[/one_half_last]
Tools
Pot
Pan
Grater
Can opener
Knife
Meal Recipes
Oatmeal and Brown Sugar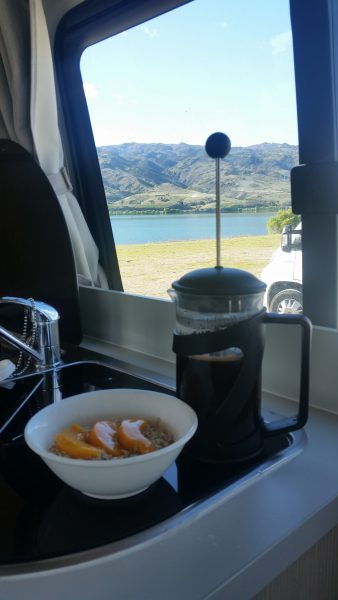 Boil water
While you wait, pour as much oatmeal as you want into your bowl.
Pour boiled water over the oatmeal to your preferred thickness.
Sprinkle brown sugar on top, to taste.
Optional: Place some peaches on top for an extra filling breakfast
You can also use the brown sugar to sweeten your morning tea or coffee.
Pasta Dinner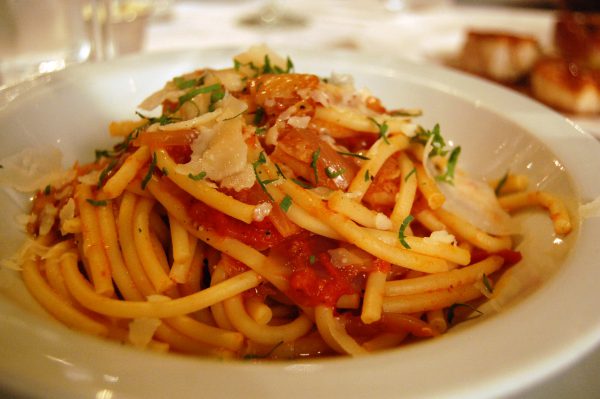 Boil and cook your pasta
Drain pasta
Mix in pasta sauce to evenly coat the cooked pasta
Serve pasta with shredded parmesan.
Optional: Add diced ham
Freshly grated parmesan will taste the best but pre-grated parmesan, such as Kraft, will store well without being refrigerated.
Hot Soup for a cold night
Mix a can of your favorite soup with a can of beans into a pot and boil
Serve while it's hot
Optional: Top it off with some grated parmesan cheese and/or crackers
Quesadillas
Heat up a pan over the fire
Place a tortilla in the pan, flip to warm up both sides
Put sliced mozzarella (or other soft meltable cheese) onto half the tortilla
Fold the other half on top and flip once cheese starts to soften
Serve hot
You can also add diced ham into the quesadilla. If you want a really filling meal then dip your sliced quesadilla into your hot soup from the recipe above.
Pizza
Heat up a pan over fire, low heat
Place tortilla in pan
Spread a thin amount of pasta sauce on the tortilla
Sprinkle shredded or thinly sliced mozzarella over tortilla
Optional: Add sliced ham
Serve once tortilla hardens – make sure not to burn it
This recipe will quench your craving for pizza, even when you're in the middle of nowhere.
Wrap
Spread a thin amount of hummus on your tortilla
Arrange sliced cucumber and sliced mozzarella in the middle
Fold over the tortilla side and bottom edges
Start devouring from the open side
Optional: Add sliced deli meat for more sustenance
Cucumbers are a hardy vegetable and keep well for long periods of time.
Chili
Combine a can of chili and a can of chili beans into a pot and boil
Serve with crackers and shredded parmesan or mozzarella.
Tip: You can use regular can of beans if needed. This extra can is mostly to make it more filling. Great for cold evenings.
Ramen

Boil and cook ramen as indicated on the package
Serve with boiled egg
Optional: Add sliced deli meat
Tim's Tip: Serve with a half boiled egg and only a little bit of broth. Pop the egg open and stir the yolk to create a rich 'egg-licious' broth.
Tim's favorite ramen brands: Nissin and Nong Shim
Snacks
Snacks can be as simple as an apple, orange, or granola bar or it may take a bit more effort. Below are a few simple snack ideas.
Cheese and crackers
Crackers and hummus
Sliced apples sprinkled with brown sugar (you can also warm up the slices in a pan for a warm snack)
Fruit salad with sliced apples, orange slices, and sliced peaches
Boiled eggs solo or sliced and topped with hummus
Sliced peaches solo or mixed with crumbled granola bar
Pan fried tortilla triangles (chips) with hummus
Be creative when buying groceries for you adventure. Just like you look for multi-purpose tools, clothes, and products, you should look for multi-purpose ingredients. Cooking while on the road saves money compared to eating out or buying pre-made meals. So save money and have fun being creative in the kitchen or over the fire.