Now that the holidays are quickly approaching I began to wonder how countries around the world are preparing for Christmas. I grew up in a multicultural family and already knew some of the customs from my background but I was still curious about other places. Here are the top places I found with interesting customs and traditions.
Britain
Greeting:

Happy Christmas (Chrimbo)

Name of Santa:

Father Christmas

Location of Santa:

Lapland

Main Dish:

Turkey

Desserts:

Christmas Cake/Christmas Pudding/Minced Pies

Drink: Snowball – advocaat and sparkling lemonade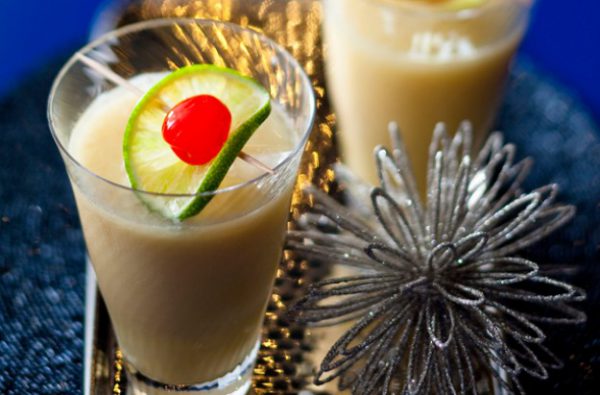 Snowball is a mix of equal parts advocaat and sparkling lemonade, garnishes like cherries and lime are optional. Traditionally snowball is made by shaking a squeeze of fresh lime juice with the advocaat and topping off the glass with sparkling lemonade. If you're up to the challenge or don't have bottled advocaat you can make your own by mixing 1 egg, 30 ml of simple syrup, and 60 ml of brandy. In the United Kingdom where the weather can get quite bitter, snowball is drunk as a "winter warmer" in pubs.
Communication with Santa:

Children burn letters in fireplace

Santa's Night Snack:

Brandy and a minced pie

Unique Traditions:

Christmas Cracker and the paper hat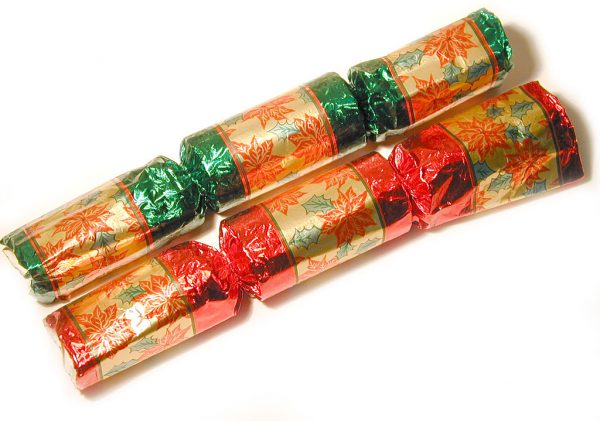 Christmas crackers also known as bon-bons are a unique tradition celebrated in the United Kingdom, Ireland, and several other countries. The christmas cracker consists of a cardboard tube wrapped in brightly colored plastic and contains small prizes in the central compartment. The two ends of the cracker are usually pulled by two people until one of the ends snap with a loud "crack", the crack is facilitated by cardboard strip similar to what is used in a cap gun. The winner is the one who is left with the larger portion of the christmas cracker and gets to keep its prizes.
---
United States
Greeting:

Merry Christmas

Name of Santa:

Santa Claus

Location of Santa:

North Pole

Main Dish:

Ham

Desserts:

Fruit cake, Apple pie, sweet potato pie

Drink: Eggnog
Although available in non-alcoholic versions, eggnog (when alcoholic) is also known as milk punch or egg milk punch. Made from milk, cream, sugar, and whipped egg adding brandy, rum, or bourbon can make eggnog the perfect drink for a cold winter night. Popular in Canada and the United States, eggnog is sold in grocery stores ready to drink but can also be made from scratch. Recipe: allrecipes Some commercial eggnog products add thickeners such as gelatin, so making your own is a great option if you want authentic eggnog.
Communication with Santa:

Children mail letter to Santa

Santa's Night Snack:

Milk and cookies

Unique Traditions:

Mistletoe kissing/Ugly Christmas sweater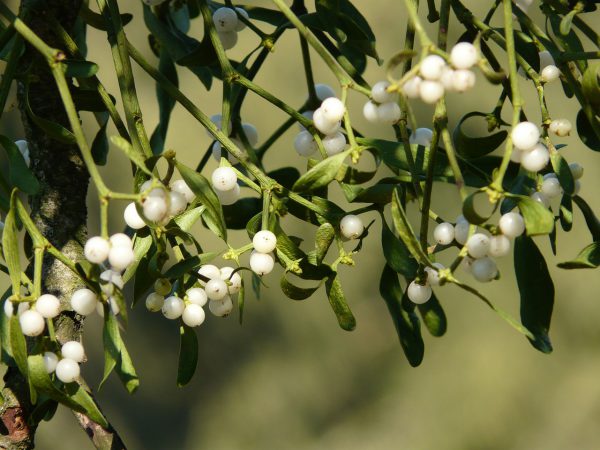 As a plant that symbolizes life and fertility, the mistletoe is part of Christmas tradition in the United States. According to custom, a man may kiss a woman if he finds her standing underneath the mistletoe. The tradition of the mistletoe has a long history and mentions of it go back to the 1st century AD in Norse mythology. As the legend was passed down through generations, the kiss under the mistletoe became the part that survived many retellings. Mistletoe is not actually a tree but is the result of a parasitic relationship between mistletoe and a tree host. Typically a bird will crush the berries of the mistletoe releasing sticky seeds, the bird eats the fruit and wipes the sticky coating on a nearby branch.
---
Spain
Greeting:

Feliz Navidad

Name of Santa:

Los Tres Reyes (they bring the gifts on Jan 6)

Main Dish:

Pavo Trufado de Navidad (Turkey with truffles)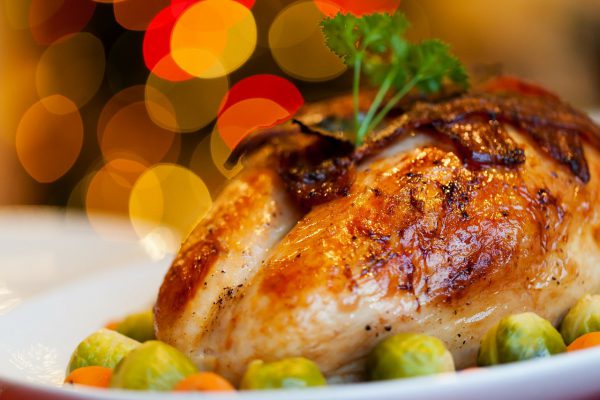 In spanish, pavo trufado de Navidad translates to Christmas turkey with truffles. The turkey is stuffed with other meats such as pork, veal, and ham creating a vessel for flavorful seasonings. Although turkey in the United States is stuffed with a herb seasoned breading, in Spain, the stuffing is made by mincing the meat from the wings and legs with pork and veal. Recipe: ctspanish The recipe includes a stock that is thickened with gelatin and the finished product is garnished with puree of apples and plums and decorate with slices of fresh pineapples and orange and with maraschino cherries.
Desserts:

Caramel Custard, Turron

Drink: Mistela and resolí
Communication with Santa:

Write letters to the 3 Kings on Dec 26 asking for toys and presents

Santa's Night Snack:

Cognac for each king, a satsuma and some walnuts, bucket of water for camels

Unique Traditions:

Leave shoes on windows or under the tree to be filled with presents on Jan 5
---
Poland
Greeting:

Wesołych Świąt

Name of Santa:

Święty Mikołaj

Main Dish:

Carp – Twelve-dish Christmas Eve feast

Desserts:

Poppy-seed Roll (Makowiec)

Drink: Dried Fruit Kompot on Christmas Eve and vodka other days (as usual)
Unique Traditions:

Your must eat, or at least try, all 12 dishes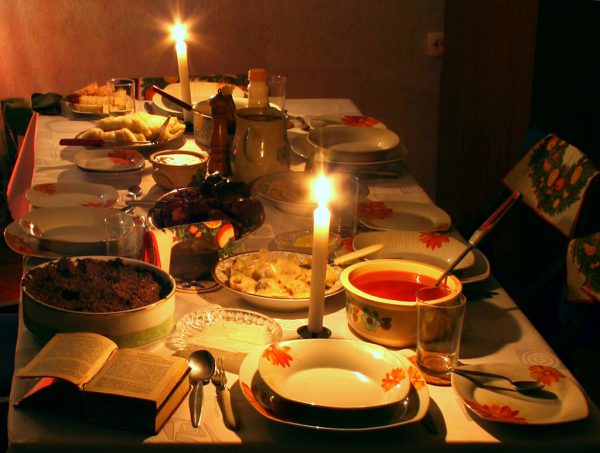 Polish Christmas Eve is a feast of 12 dishes, but the catch is that all 12 dishes don't contain any meat. As one of the most important parts of the season, close family members are invited and special dishes are prepared for this once a year event. The number of dishes symbolizes richness, such as the 12 apostles and eating some of all 12 brings good luck for the coming 12 months next year. One of the most popular dishes is beetroot soup (red borscht), although this soup is available all year round, Christmas Eve dinner is not complete without it. Borscht has a rich purple-red color from the beets and is traditionally served with tiny dumplings and fried onion. Recipe: seriouseats Culture.pl has an extensive breakdown of this Christmas tradition and a list of all the typical dishes that are prepared culture.pl.
---
Germany
Greeting:

Frohe Weihnachten

Name of Santa:

Santa Claus or Father Christmas (der Weihnachtsmann) or Christkind

Main Dish:

Roast goose

Desserts:

Stollen

Drink: Gluehwein — or mulled wine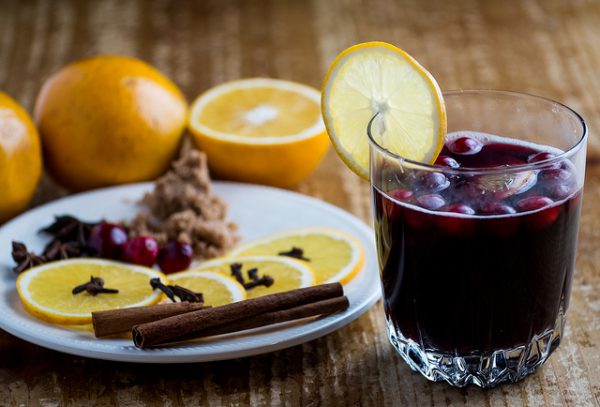 Most traditional Christmas drinks contain alcohol and Gluehwein is no exception. In German, Gluehwein translates to "glow wine" which is refers to the warm glow you get after drinking it. The drink is consumed as an after-ski drink which is perfect after a chilly day of winter sports. Recipe: allrecipes Gluehwein is prepared by heating red wine with cinnamon sticks, cloves, star aniseed, citrus, sugar and at times vanilla pods. Sometimes a shot of rum or other liquor is added but traditionally wine is the only alcohol used in making gluehwein.
Communication with Santa:

Children write to the 'das Christkind/Christkindl' asking for presents. The letters to the Christkind are decorated with sugar glued to the envelope to make them sparkly and attractive to look at. Children leave the letters on the windowsill at the beginning of or during Advent.

Unique Traditions:

Christkind is a girl who was chose for her "Christ like" qualities. She has 150 official duties to complete before Christmas.
---
Chile
Greeting:

Feliz Navidad

Name of Santa:

Viejito Pascuero (Old Man Christmas – a small-sized man) or Papa Noel (Father Christmas)

Main Dish:

Asado

Desserts:

Pan de Pascua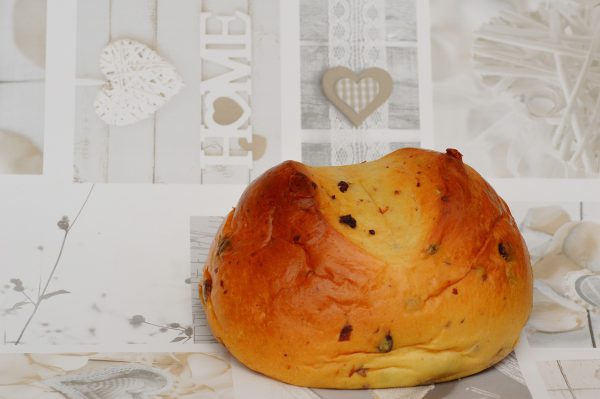 Pan de Pascua or Easter/Christmas bread is a sweet sponge cake flavored with ginger and honey. While it is called bread, it is not made from dough, it is made from batter and usually contains candied fruits and nuts. Pan de pascula is said to originate from the German stollen and the Italian pandoro.
Drink: Cola de Moro
Santa's Night Snack:

Pan de Pascua (same as the family!)

Unique Traditions:

At midnight everyone opens their presents! Children sometimes go round each others houses with their new toys – even in the middle of the night!
---
Mexico
Greeting:

Feliz Navidad

Name of Santa:

El Niñito Dios (baby Jesus) or Santo Clós (Santa Claus)

Main Dish:

Turkey and Tamales

Desserts:

Bunuelos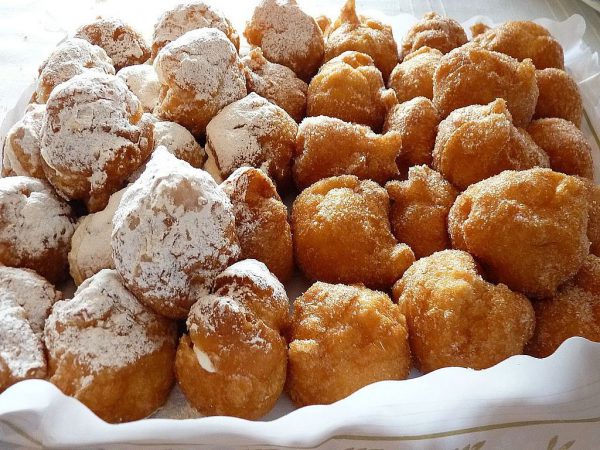 In many South American countries as well as Turkey and Morocco, bunuelos are a popular treat during Christmas time. Although they are consumed in different varieties, the Mexican version is often served with a hot sugar cane syrup. Typically bunuelos in Mexico are made from yeasted dough with a hint of anise that is deep-fried, then drenched in a syrup of brown sugar, cinnamon, and guava
Drink: Ponche Navideño
Unique Traditions:

The largest ever Angel Ornament was made in Mexico. It was made in January 2001 by Sergio Rodriguez in the town of Nuevo León. The angel was 18′ 3″" high and had wing span of 11′ 9″! Perhaps the most amazing thing about the angel was that it was completely made out of old beer bottles, 2946 of them!
---
Jamaica
Greeting:

Merry Christmas

Name of Santa:

Santa Claus

Main Dish:

Curried Goat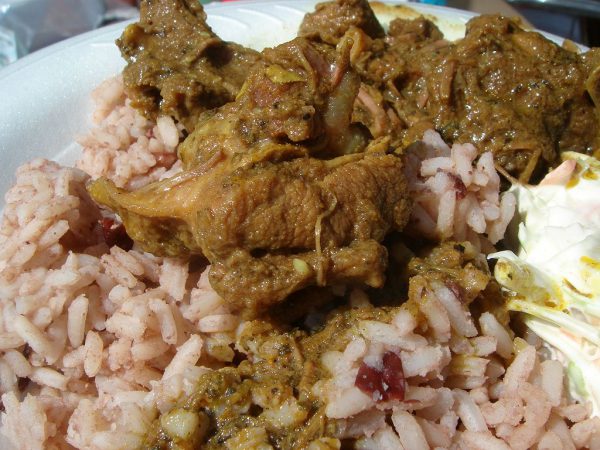 Jamaican parties are often accompanied with curried goat, where a local expert or "specialist" is brought in to cook it. Curry goat has its origins in south asia but the milder Jamaican version is very popular in Indo-Caribbean cuisine. The sauce itself pairs very well with a side of rice, in fact curry goat is almost always served with rice. Curry goat was mostly served at weddings and other celebrations but is now more frequently available.
Desserts:

Rum Fruitcake

Drink: Sorrel Punch
Unique Traditions:

Christmas Eve is also called 'Grand Market'. In every town and city in the country there is a cross between a festival and a market.
---
Italy
Greeting:

Buon Natale

Name of Santa:

Befana (old lady) or The Three Kings on Epiphany, 'Babbo Natale' (Santa Claus) on Christmas day

Main Dish:

Feast of the Seven Fishes

Desserts:

Panettone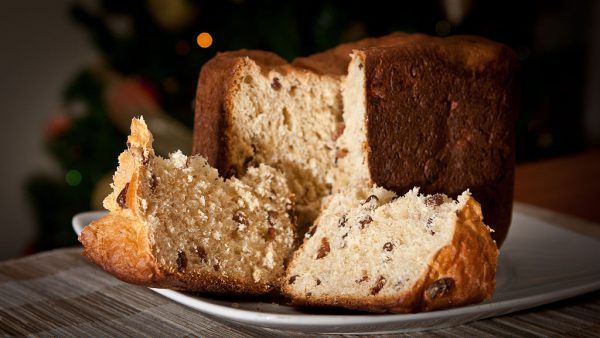 Anyone who has walked through a supermarket during the Christmas season will notice the boxes of panettone lining shelves. This seasonal bread is an Italian original first prepared in Milan. The shape of a panettone resembles a giant cupcake and the base is wrapped in paper or plastic. You can find panettone in many flavors such as chocolate and lemon containing colorful candied fruit.
Drink: Bombardino
Unique Traditions:

Naples is also the home to the largest crib scene in the world, which has over 600 objects on it!
---
Puerto Rico
Greeting:

Feliz Navidad

Name of Santa:

Los Tres Reyes (they bring the gifts on Jan 6), Santa as it becomes more Americanized

Main Dish:

Lechón – roast suckling pig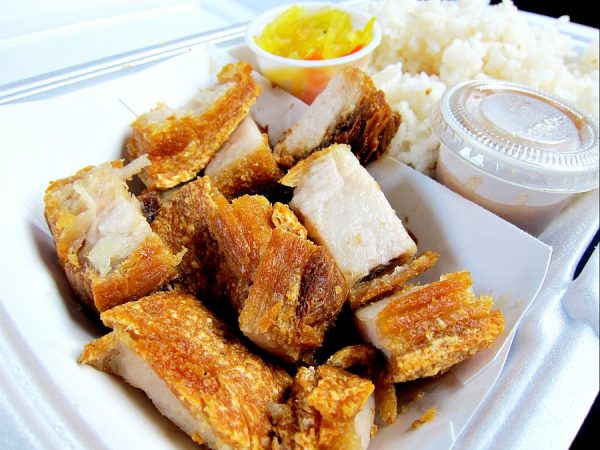 Lechon is popular in Spain as well as Puerto Rico and refers to roast suckling pig. As Puerto Rico's national dish you can expect a real treat if invited to a Puerto Rican Christmas dinner. Traditionally the whole suckling pig is skewered, entrails removed, and cooked over a pit filled with charcoal.
Desserts:

arroz con dulce (a kind of rice pudding) and tembleque (a set custard made with coconut milk)

Drink: Coquito
Unique Traditions:

People like to carol singing, known as Parrandas (also sometimes called Asalto or Trulla). Friends gather late in the evening (about 10pm) and visit different houses.
---
Japan
Greeting:

Meri Kurisumasu

Name of Santa:

サンタさん、サンタクロース santa-san (Mr Santa)

Main Dish:

KFC Fried Chicken!!!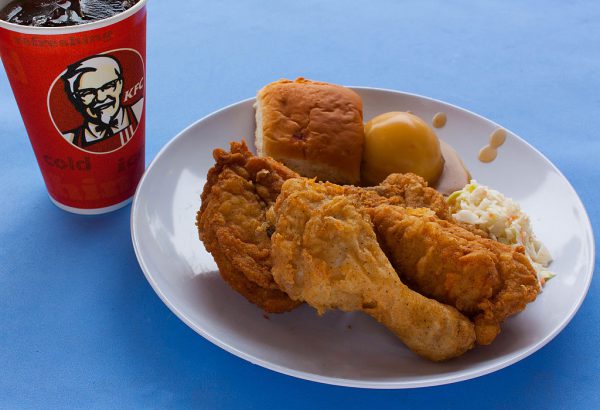 Not all Christmas traditions require hours sweating over the stove cooking a five-course meal. In Japan families celebrate Christmas by ordering Kentucky fried chicken. The tradition is not very old, in fact it originates from a 1974 campaign by KFC titled "Kurisumasu ni wa kentakkii!" (Kentucky for Christmas!). KFC now offers a Christmas chicken dinner for $40 which includes cake and champagne. The lines for the Colonel's signature recipe can be as long as 2 hours, whereas many Japanese families order in advance to avoid the wait.
Desserts:

Kurisumasu Keiki

Drink: Plum Sake called umeshuu (うめしゅ)
Unique Traditions:

Everything
Do you know of any other Christmas customs or traditions that I didn't mention here?